Huawei Air Deflator Type B
Huawei Air Deflator Type B
Send to a friend
Recommend this to a friend by entering their email address in the box below.
Includes:
12 Months Warranty
Free Delivery
| | |
| --- | --- |
| Quantity Purchased | Price |
| 0 - 1 | £39.00 |
| 2 - 3 | £37.50 |
| 3 - 4 | £35.00 |
| 5 + | £32.50 |
Discounts Available
For Pallet Purchases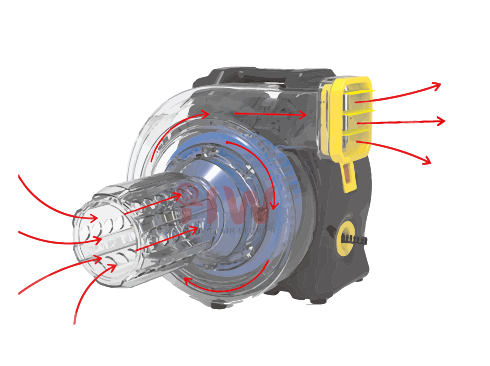 Discover the inflatable industry's revolutionary air deflator.

The Huawei Air Deflator will deflate your inflatables in a matter of minutes. It's unique design allows for deflation of all types of bouncy castles and inflatables quickly and safely.

What is the Huawei Air Deflator? 
The Huawei Air Deflator is an optional attachment purchases seperately or in a bundle pack for Huawei Air Blowers: REH-1.5E, REH-2E and REH-1E. It allows bouncy castles to be deflated via either their deflation zip or their inlet tube (however, it must be pushed right into the inflatable if used this way).
What is different about Huawei Air Deflator B? 

The Huawei Air Deflator Type B is double the length of Deflator A. They fit all the same Huawei bouncy castle and inflatable fans, however due to the extra length, type B has a quicker deflation speed. This makes it ideal for larger inflatables such as large mega slides, obstacle courses and bouncy castles of extra large dimensions.
Huawei Air Deflators: how do we use it?

The Huawei Air Deflator is designed to take out the frustrating part of inflatable storage - deflation. It will single handedly pull all air out of an inflatable of any size.
To get the best out of the Huawei Air Deflator, please follow the below steps:
1. Turn off your inflatable or bouncy castle and disconnect the inlet tube from the outlet of the bouncy castle fan.
2. Connect your Huawei Air Deflator to your bouncy castle blower (must be Huawei 1hp, 1.5hp or 2hp fan blower). To connect simply use the "twist in, twist out" mechanism - really easy and takes just a few seconds.
3. Identify if you have a deflation zip, if so, please open the zip and slide the deflator deep inside the inflatable, right up to the side of the bouncy castle blower, then close the zip over.
4. APPLIES TO DEFLATION ZIP ONLY - Tuck the bouncy castle inlet tube underneath the inflatable, so it is out of the way and helps create a vacuum.
5. Turn on the Huawei Air Blower Fan and stand back to let the deflator work its magic.
If you DO NOT have a deflation zip, please do the following below:
Push the deflator into the inlet tube of the bouncy castle and squash it right up to the inflatable so that the Deflator is really deep inside the castle, as far as it will go. If you do not do this, the inlet tube will vacuum onto the deflator too tightly and the deflator will not work.
| SPECIFICATION | |
| --- | --- |
| Size L x D x H (mm) | 540 x 210 x 210 |
| Packing Size (mm) | 550 x 220 x 220 |
| Weight (kg) | 1.7 |
| Warranty | 12 Months |