10ft Platform 3D Shark Super Slide
10ft Platform 3D Shark Super Slide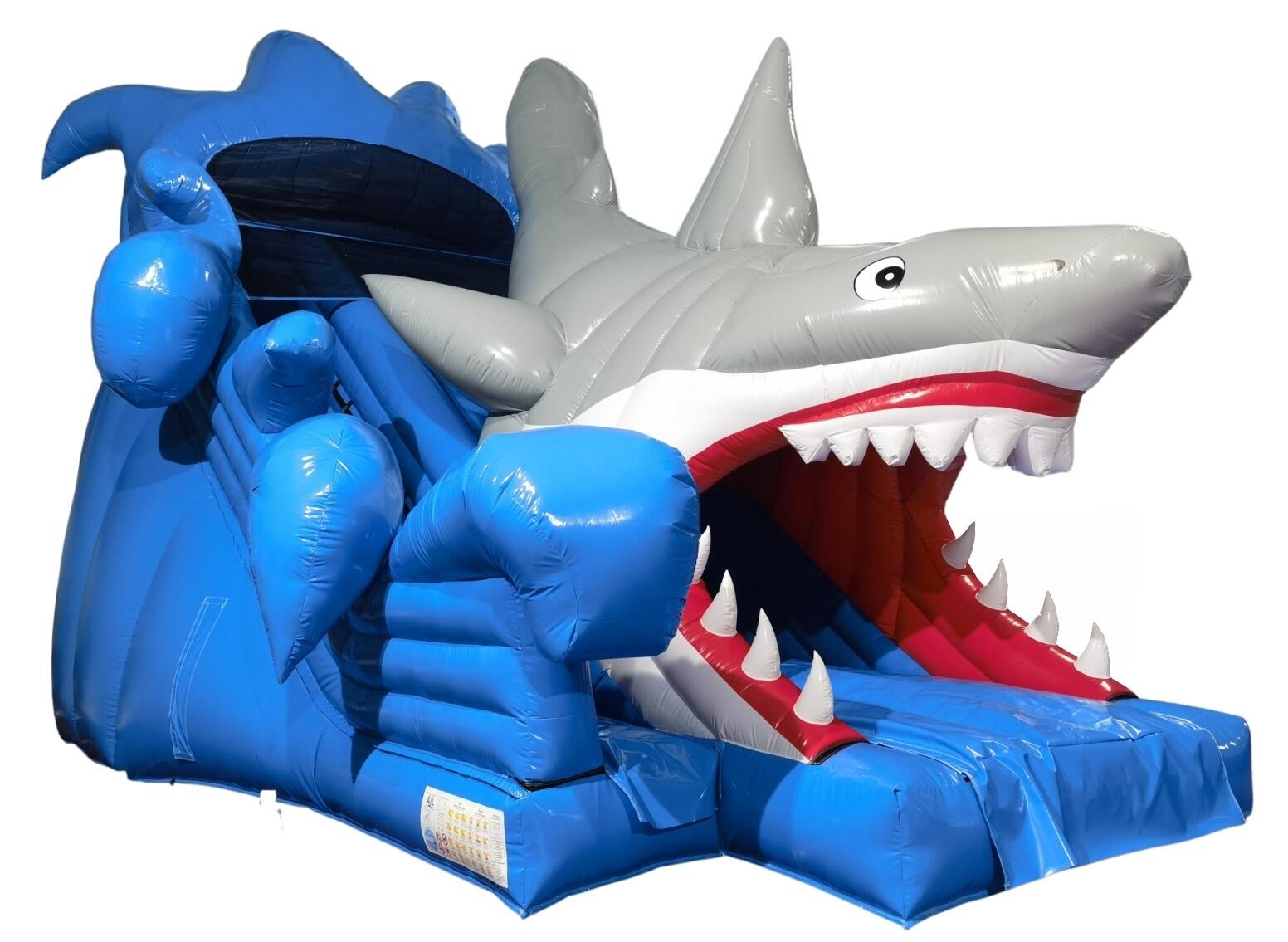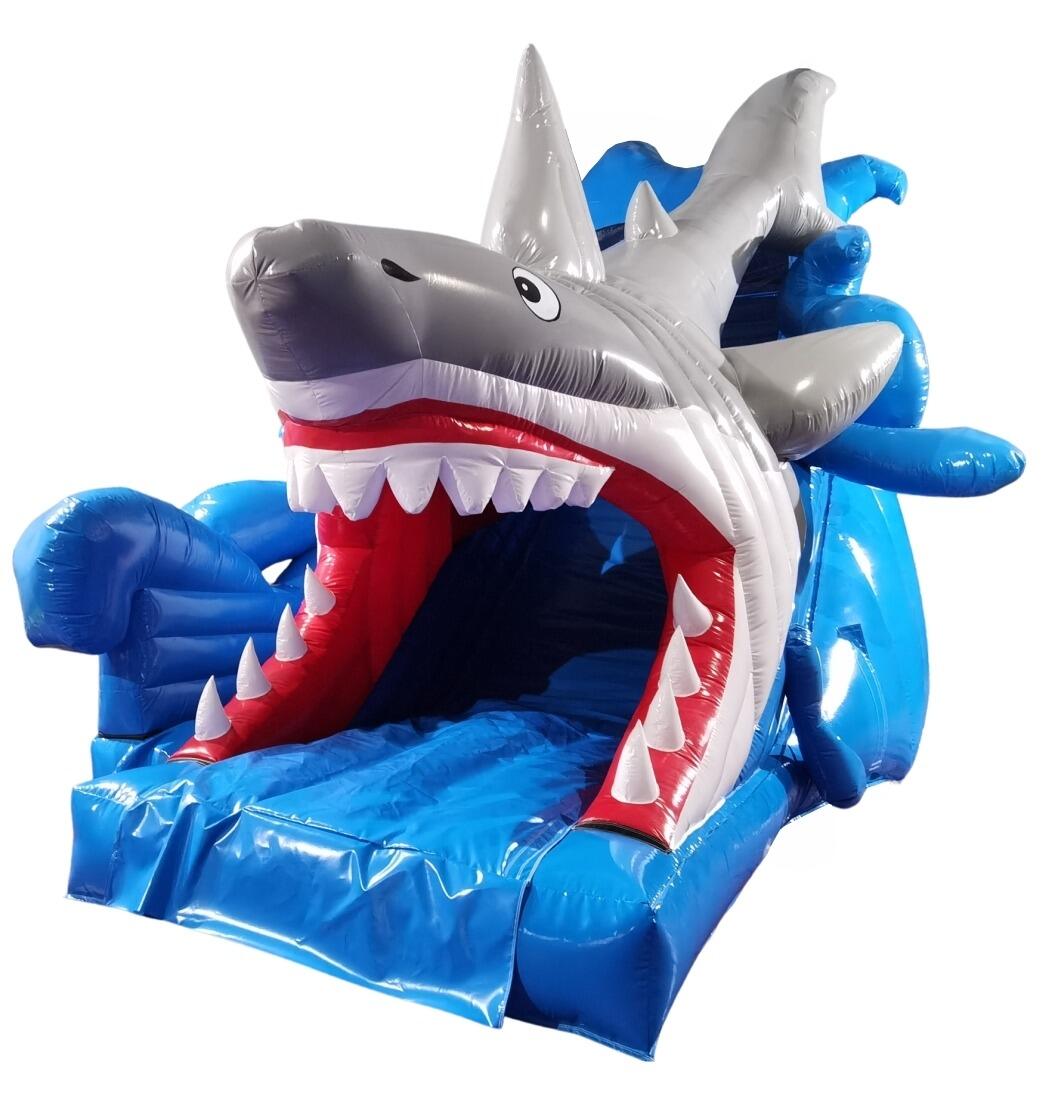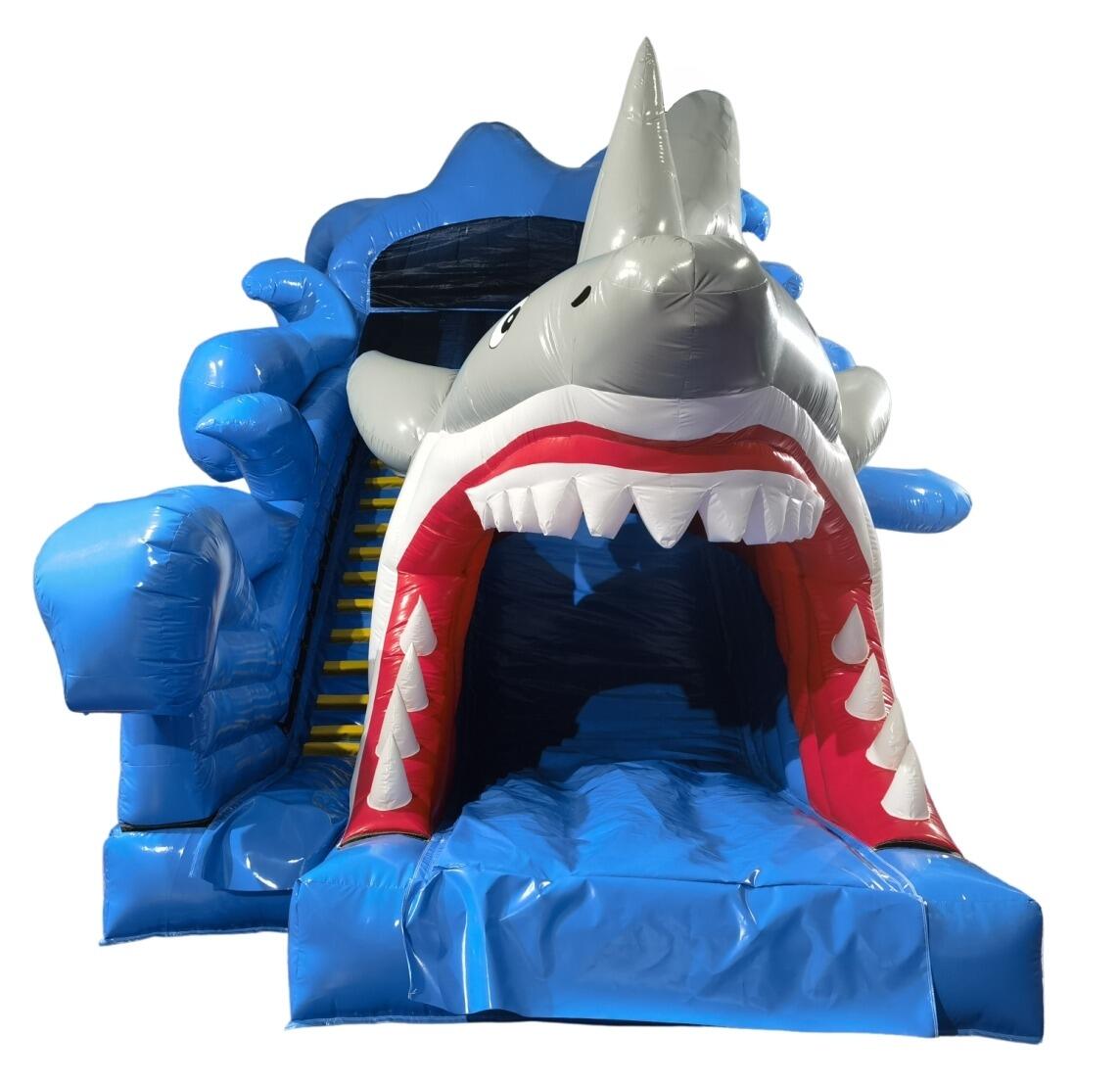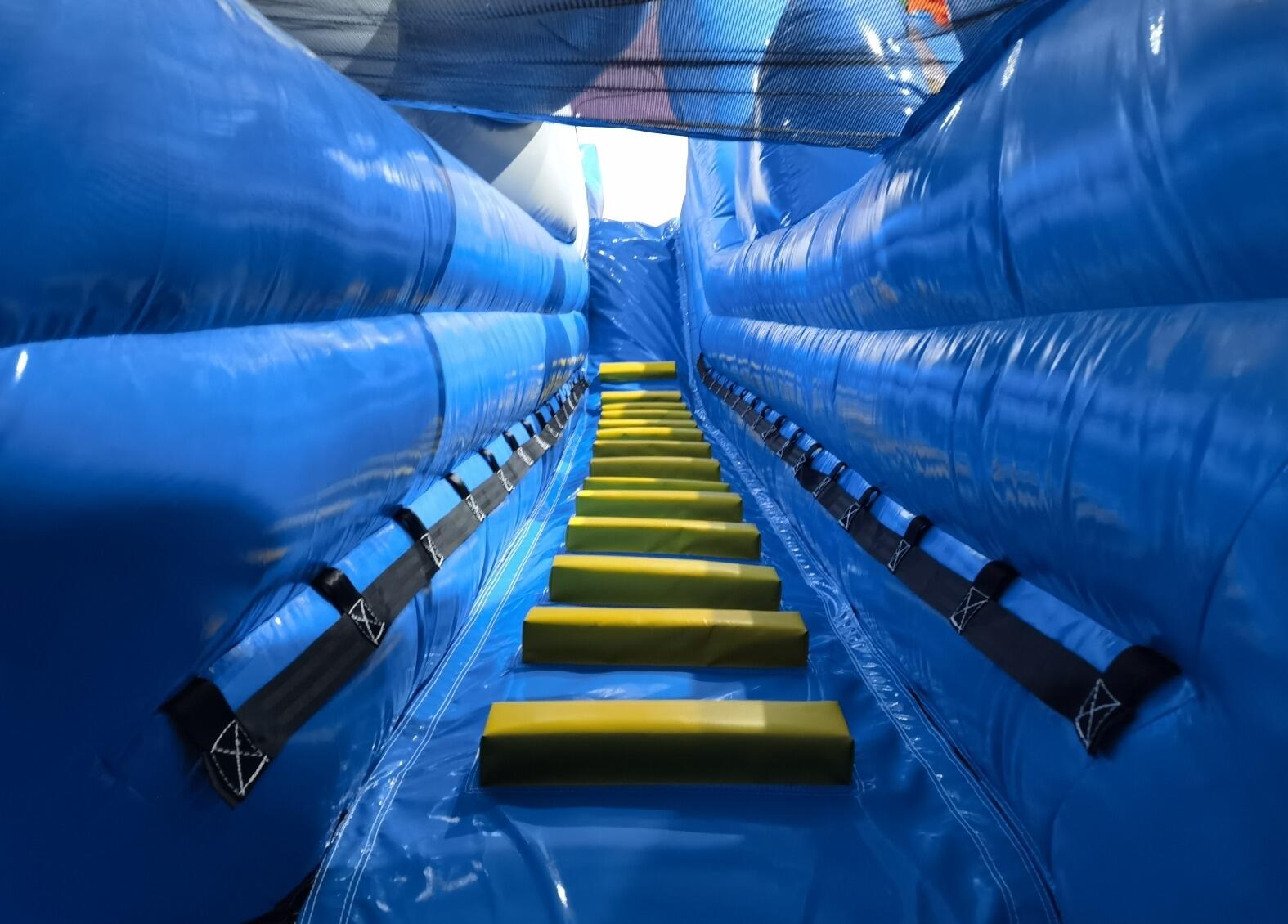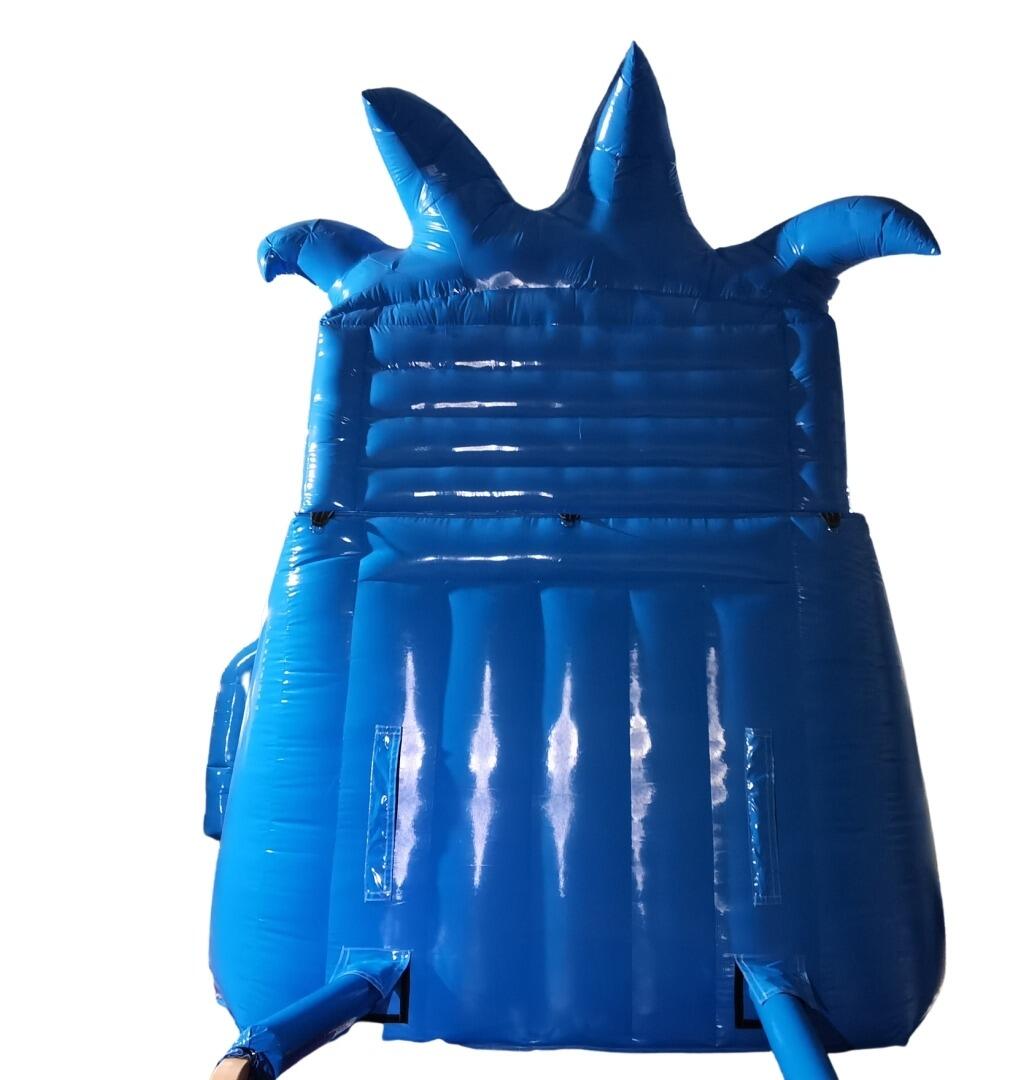 Availability:
Made To Order
Send to a friend
Recommend this to a friend by entering their email address in the box below.
Includes:
Blower
EN14960 Test Certificate
EN14960 Steel Pegs
Groundsheet
Digitally Printed Artwork
12 Months Warranty
Introducing the exhilarating 10ft Platform Inflatable Slide - a thrilling aquatic adventure that brings the excitement of a 3D Shark Theme right to your backyard! Get ready to embark on an unforgettable journey as you slide down the sleek surface, defying gravity and experiencing the rush of the ocean.
Designed with the highest standards of safety and fun in mind, this inflatable slide stands tall at 20 feet tall with a 10ft platform, allowing you to climb up and conquer the towering wave like a true surfer. Ascend to the summit, where a jaw-dropping 3D shark awaits, complete with vibrant colours, intricate details, and a fearsome presence that will ignite your imagination.
As you prepare to plunge into action, take a moment to appreciate the durable construction and attention to detail that make this slide truly remarkable. Crafted from premium, puncture-resistant materials, it guarantees hours upon hours of worry-free playtime. Reinforced seams and sturdy anchor points ensure stability and security, so you can focus solely on the excitement that lies ahead.
Once you've summoned your courage, it's time to take the leap. Feel the rush of wind against your face as you descend down the water-coated slide, the curved path providing an exhilarating ride that will make you feel like you're soaring through the open ocean. And don't worry, the landing is as smooth as can be, with a generously sized splash pool awaiting your triumphant arrival.
Perfect for garden parties, summer get-togethers, festivals, events and more, or simply beating the heat on a sunny day, this 10ft Platform Inflatable Slide with a 3D Shark Theme brings endless entertainment for children and adults alike. It's an ideal centerpiece that will turn any gathering into an unforgettable event, creating memories that will last a lifetime.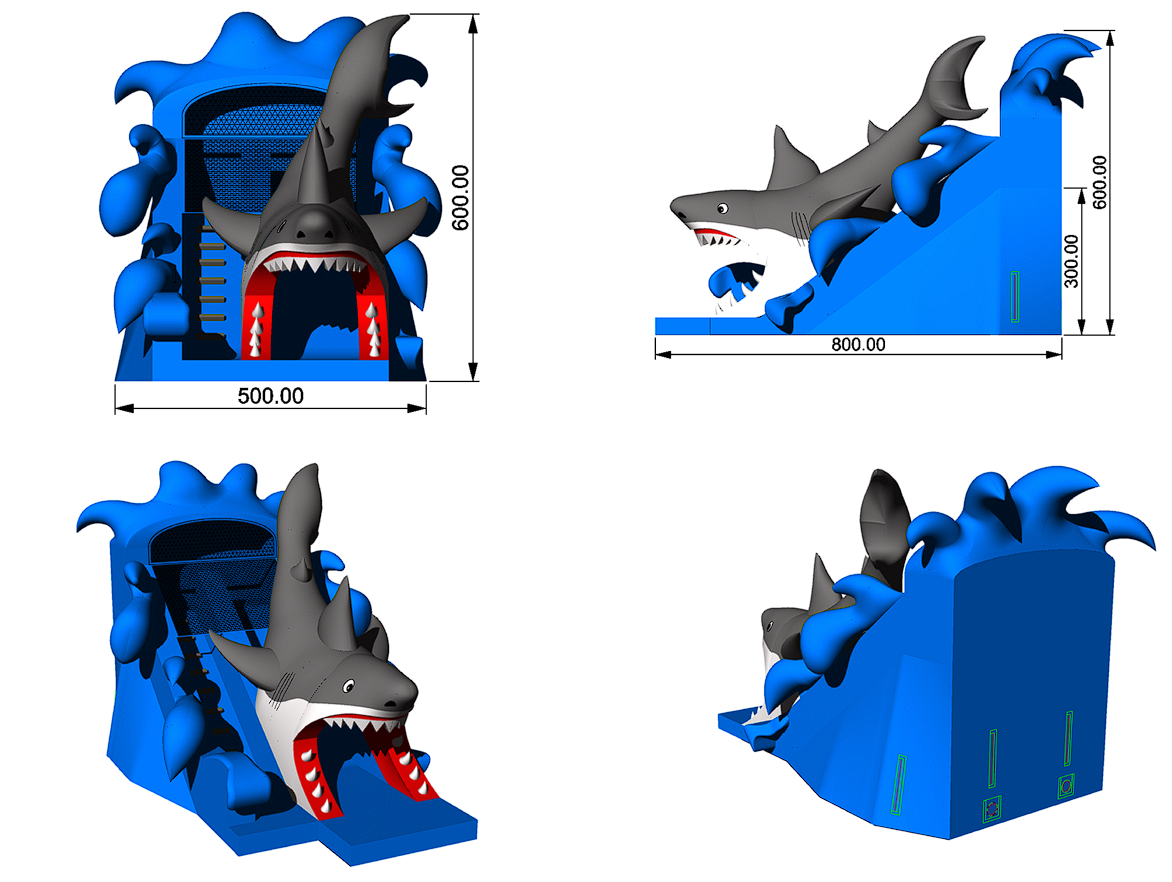 If you are ordering an inflatable (e.g. bouncy castle, assault course, slide combo etc) there are several ways to order.
ORDERING IN STOCK ITEM
If the item is in stock, you can either:
 Order directly on our website using the order now button and choose delivery or collection. 
Pay a deposit using the pay deposit button. This option is for: 
Reserving the item if you want to pay at a later date.
Adding the item to your order that includes other items that require manufacturing 
Paying a deposit for this item but you would like it manufacturing with some customisation (e.g. different colours). This option is subject to lead times.
ORDERING MADE TO ORDER ITEM
If the inflatable or bouncy castle you want requires manufacturing then you can use the pay deposit button.
Items that are made to order will be subject to a lead time, this is dependant upon the product, if you would like to find out the current lead time please get in touch, normally it is around 2-4 weeks, however during busy periods (e.g the summer season) this can extend.
If you require some customisation such as change of colours or theme, you can either add this on the note add checkout or get in touch with us via phone call on +44 151 487 3336 or email at info@ajluk.com
You can read more on customisation below.
| DATA SHEET | |
| --- | --- |
| Size W x L x H | 16.4ft x 26.2ft x 20ft |
| Platform Height | 3.05m (10ft) |
| Weight | 160kg |
| Packed Dimensions | 1.25 x 1 x 1m |
| Blower Required | 3hp |
| Minimum Pressure | 1 kPa |
| Standards | BS EN 14960 |
| Features | Ladder, Slipsheet, Deflation Zips x 4 |
| Comes with | |
| --- | --- |
| Blower | 3hp |
| Steel Ground Pegs | 17 x 400mm x 14 |
| Ground Tarpaulin | 12ft x 18ft x 2 |
| Test Certificate | 12 Months Manufacturers Test |
| USER HEIGHTS | |
| --- | --- |
| Up to 1m | 6 |
| Up to 1.2m | 6 |
| Up to 1.5m | 6 |
| Up to 1.8m | 6 |
We offer finance on our Inflatable products. For more information on finance, please click here.
Whether you are looking to finance a startup package, add to your fleet or purchase a bouncy castle for private use, our finance is perfect for you.
Our bouncy castles, slide combos, slides, obstacle courses and all other types of inflatable can be customised to meet your requirements. 
Some of our popular choices of customisation include:
Changing PVC colours
Changing PVC finish (cape or gloss finish)
Adding fitted velcro for interchangeable artwork
Adding disco light and speaker pockets or compartments
Custom bespoke branding
Plus many more options to choose from, if you would like to learn more about what customisation you can do, please click here.